Published: Friday, 29 March 2013
I have a wall in my room where the artwork is sheets of paper blu-tacked next to each other, forming a rectangle.  I call it my "Wall of Change"
My wall of change reminds me of my priorities for the year; my goals within my priorities for the year, has space for me to document the number of hours I've studied each week, the number of times I've completed each of my tutorials, my goals for the next 3 months, words that inspire me and quotes that inspire me.
I created my wall of change because I know that the best way to achieve your goals is to constantly remind yourself of them.  I wanted a time-efficient, clear way to remember my goals, and I wanted my goals to always be near me to reference whenever I wanted.  I love my wall of change.  It inspires me everyday by showing me the person I want to become.
My 2011 Wall of Change wasn't pretty, but it got the job done.  I started with A4 sheets of paper.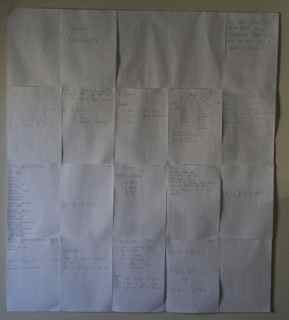 I made my 2012 Wall of Change prettier.  It uses origami papers.  I actually like the 2011 one better because it was bigger, and white, so I could read it easier.