Published: Thursday, 14 April 2022
A robot friend suggested we go and get our nails painted by a robot!  So we went and did that!  The first time I saw a nail painting robot was at CES 2018.  A tiny 3D printer printing designs onto fingernails. 
The woman at the booth wouldn't let me try because I didn't work at a makeup or a fashion company.  When she asked where I was from, I said Australia, and she didn't seem to like that!  :)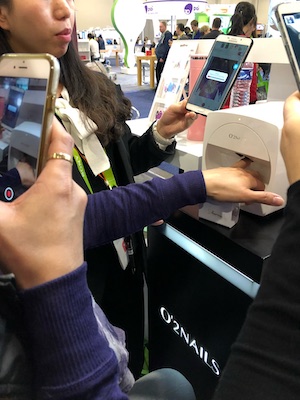 CES 2018 where I first encountered a nail polish robot, but wasn't allowed to try the experience.
Fast forward a few years, and we can now get our nails painted at the local Target!  So I paid the $5 intro fee via the app, chose my nail polish colour and waited for 3 people before me to go.  When it was my turn, the assistant swapped out the nail polish colours, I sat down and I inserted my hand into the machine.  As my hand entered the machine, a strap gently tightened around my hand to hold it in place.  You're meant to relax your hand and fingers as much as you can, so you move it the least amount possible.  You place one finger at a time.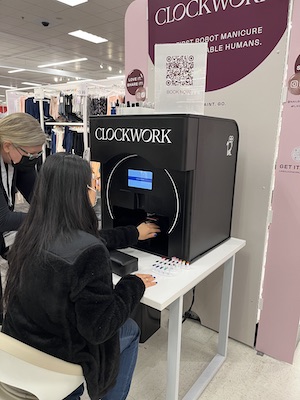 At the Target
Press a button to tell the machine you're ready and it takes 250 photos of your finger nail, to figure out the xyz-positions of where to put the nail polish resin.  It then prints out a series of dots on a blot paper to get rid of air holes in the nail polish bottle, and then applies nail polish to your fingernail - like a 3D printer applies filament!  It was really cool!  But if you moved just a little bit between the time the photos were taken and the application, then the nail polish would be a little off.  The robot starts with the fingernail's outline and works its way to the centre, by drawing the largest perimeter in the unpolished area each time, like a snail.  The machine only applies one layer of nail polish quite thickly, making it super quick!  You then take your entire hand out, readjust, and repeat the same process for the next fingernail!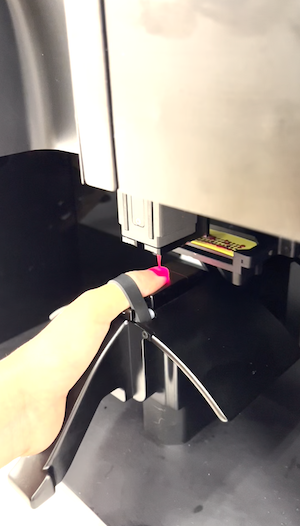 My fingernail getting painted.  You can see the extruder over my nail,
laying down the resin.  You can see the yellow blot paper in the background. 
You can do all 10 fingers in 10 minutes if you're very relaxed and don't move your fingers!  I wasn't happy with the results for two of my fingers, so the assistant used nail polish remover and the robot went again.
After the robot had finished with both hands, the assistant then finished up by applying drops of lacquer drying drops to each finger to smooth out any ridges and inconsistencies and to accelerate the drying process.
Right now, it's $8 for a follow-up session within 3 weeks, or $10 usually.
I really liked the range of colours to choose from, having the assistant there was reassuring and elevated the user-experience, and it was a super fun social activity to do with a girlfriend!  I didn't manage to get an after shot of my nails because I was waving them around to dry!  But here's my friend's after robot-nail shot.