Published: Friday, 12 February 2016
We launched Aipoly two days before CES 2016, where we were given a booth for free, as one of five winners of the first CEA Foundation "Technology that Improves People's Lives" competition.  We also filmed a documentary in the month leading to CES, with Las Vegas.  It's pretty cool!  It shows what it was like to work in our office, our team and culture, the journey to Las Vegas, and our week at CES.  Here's the documentary.
Here's a gif of our booth!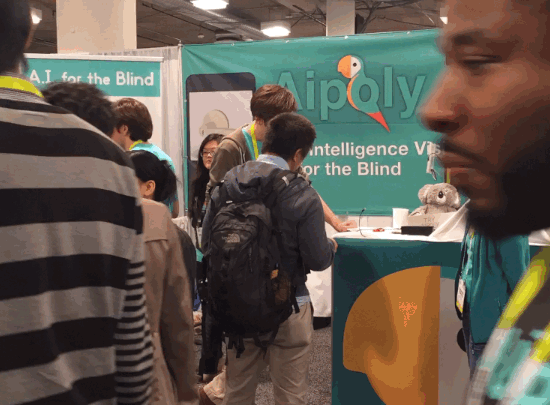 And here's a video of the Aipoly Vision app in action!  I have to say, our beta launch of Aipoly is miles and miles better than our minimum viable product (MVP) we created in August 2015.  The Aipoly Vision app does all the hard work on the phone itself - it doesn't require any internet whatsoever!  So you can use it in the desert, in Antarctica, or even under the sea!  Our MVP recognised things at 6-20 seconds an object.  The Aipoly Vision app recognises 3 objects a second.  That's at least 18 - 60 times faster!  And our users agree that it's great!  Since launch, we have already had 43,000 downloads.  Currently only available on iPhone 5s and above.  Download it and try it yourself!  http://aipoly.com/