Published: Tuesday, 17 November 2015
I led a trip to Israel with Wyatt Roy, Assistant Minister for Innovation, for a group of 45 entrepreneurs, politicians and business people, in order to learn about Israel's startup scene.  I enjoyed meeting the Australian entrepreneurs, experiencing the culture and learning about the Israelis' perception on "Start-up Nation".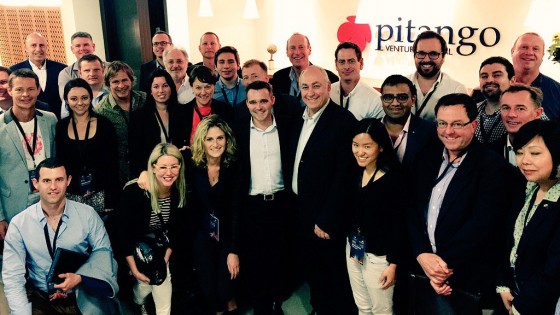 Day 1:  Group photo taken at Pitango Ventures, one of the top-tier VC Firms in Israel, with one of the co-founders and managing partners, Chemi Peres, who I would later see again in Melbourne.  This was one of the best sessions of the trip and I would have missed out on this if I hadn't taken my flight, so I'm glad I was there!


Here are some quick stats about Israel:
Israel is ranked second in the world for venture capital funds, behind the US, and has the largest number of NASDAQ listed companies outside of the United States and Canada.
Israel has the second highest concentration of hi-tech companies in the world, after Silicon Valley,
In proportion to its population, Israel has the largest number of startup companies in the world. In absolute terms, Israel is second only to the US in terms of number of startup companies.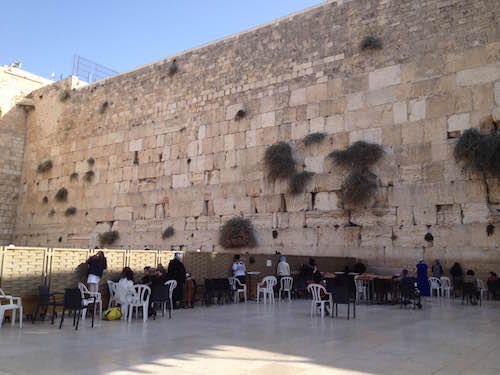 The Wailing Wall/ Western Wall in Jerusalem.  Men and women are segregated by the fence in the middle.  On the final day in Jerusalem, sitting right up against the wall, I had a bird poo on my trousers.  I took it as a sign that it would be an exceedingly lucky day.  Alas, it wasn't.
My main takeaways were:
Everyone in Israel is doing a startup!
Compulsory military service means the Israelis develop strong friendship and professional groups based on discipline, technical skills and abilities.
Military service also gives them deep knowledge in world-class technical training.
Israel is a small country - everyone knows everyone else, and everyone knows what is going on everywhere.
Variety of and many grant schemes, whether you're in academia, or various stages of the startup journey.
Israelis value education.  The most embarrassing thing in Israel is to be uneducated and to not want to keep learning throughout your life.
Teamwork and leadership skills are developed through the military.  They learn that "we're all in this together;  we are only as good as our weakest link;  and we need everyone in the team to win, in order to win."
Entrepreneurship is celebrated.  Successes are in mainstream news, no matter how big or small.  If someone has a $20 million exit, the President will call and deliver their congratulations on national television!  Someone in our group from Australia had a $300 million exit and had no call or congratulations from the Prime Minister - he got investigated by the tax office instead.
PhD students know what they need to do to start a startup.  They can ask their professors for a lab.  Their professors know where to direct and guide their students to successfully start a company.
They know that life is short and anything can happen.  (Bombs going off, people getting stabbed in the streets, men with AK47s walking around Jerusalem with their fingers on the trigger, etc.)  So they work hard and work quickly!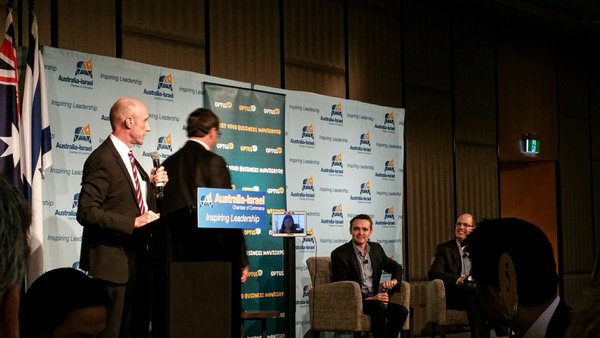 I participated in a panel via my robot Teleport, with Wyatt Roy and the Chief Scientist of Israel, Avi Hasson, in Sydney, following the trip

I had a stopover in Bangkok, Thailand on the way to Israel.  They didn't put up the gate number until it was time to board.  We ran and got to the gate 30 minutes before takeoff.  For some reason (at the time they said because we were young and had travelled to many countries), we were taken away.  I kept telling them I was leading a delegation to Israel of politicians, entrepreneurs and business people, on behalf to the Australian-Israeli Chamber of Commerce, to foster trade between Australia and Israel.

The room we were led to had other people being searched.  But it cleared up in the first 10 minutes.  We were the only ones left.  My travel companion Alberto was taken away and strip-searched.  I had my backpack searched.  They held us in the room until after the plane was meant to have taken off!

Alberto had to show security his laptop and answer questions about where it was purchased.  Alberto was told he could take his laptop on the plane.  

Then the head of security said we had to board the plane now.

We asked where were our things.  

They said I wasn't going to travel with anything - not my backpack.  And not my suitcase.  Not only was my backpack not going to travel with me as carry-on.  It was not going to travel with me in the check-in!  It would have to travel on another flight!

I was flabbergasted.  

I kept saying that I was travelling with politicians, entrepreneurs and business people, in order to facilitate trade between Israel and Australia.

We were told if we didn't get on the plane right now, we would have to wait 24 hours for the next flight.  I didn't want to let the delegation down as their co-leader, so I got on the plane.

I went to Israel with my passport, a credit card, two pens and some scrap paper.  Even my mobile phone was taken off me!

The entertainment system on the flight was really bad - the dialogue cut in and out, so you could only hear half of it.  Worst flight ever.  And to think I paid extra, in order to not have to do three plane stopover!

As I promised security, the incident was reported in The Jerusalem Times, the AFR and everyone in Israel knew about it!  We received apologies all around Israel for the rest of the trip.

There were about seven people in our delegation who had their luggage displayed for at least a couple of days.

The airline later apologised as well.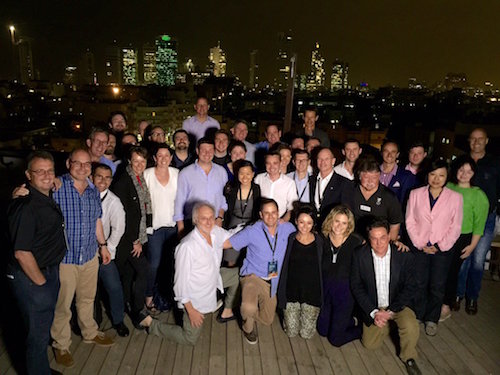 And here's another group shot, taken on the last day of the 10-day mission.  Ahh, what great memories.  :)