Published: Wednesday, 06 September 2017
I did an interview at the beginning of the year about 24 hours in the life of me.  I've copied and pasted the text here below.  Enjoy!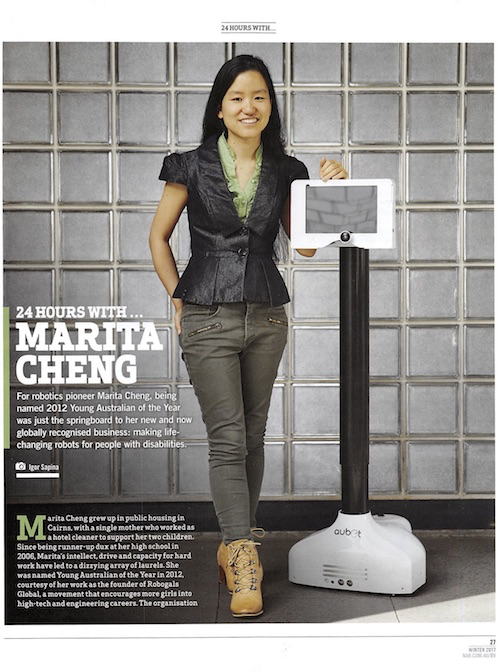 For robotics pioneer Marita Cheng, being named 2012 Young Australian of the Year was just the springboard to her new and now globally-recognised business: making life-changing robots for people with a disability.
Marita Cheng grew up in housing commission in Cairns, with a single mother who worked as a hotel cleaner to support her two children. Since being runner-up dux at her high school in 2006, Marita's intellect, drive and capacity for hard work have led to a dizzying array of laurels.
She was named Young Australian of the Year in 2012, courtesy of her work as the founder of Robogals Global, a movement that encourages more girls into high tech and engineering careers. The organisation has delivered robotics workshops to more than 60,000 schoolgirls in 10 countries.
Graduating from the University of Melbourne in 2013 with a double degree in computer science and mechatronics engineering, Cheng had no shortage of job offers, at home and abroad, but instead opted to sail her own ship as the founder of 2Mar Robotics, now aubot. The start-up designs and builds low-cost robotic devices for people with disabilities. Late last year it announced the release of Teleport, the world's first commercially available brain-controlled telepresence robot. Foundation customers include CanTeen, a charity which supports young people battling cancer.
5am: I'm up somewhere between 5 and 6. It's my reading time, usually business-related books. At the moment I'm in the middle of something my friend lent me, a book by Charlie Munger, Warren Buffett's business partner. The full title is: Poor Charlie's Almanack: The Wit and Wisdom of Charles T. Munger. It's all about how he lives his life and makes his investment decisions and the mental frameworks he created to make good choices in his life. What am I taking out of it? That it's good to keep learning, all your life. Charlie always had a book in his hand; that's what everyone around him remembers when they think of his hands!
7.30am: I have some breakfast, usually just some canned fruit, muesli and yoghurt, then head to the office at 8.45. We're in a warehouse close to where I live in Richmond so it's really convenient.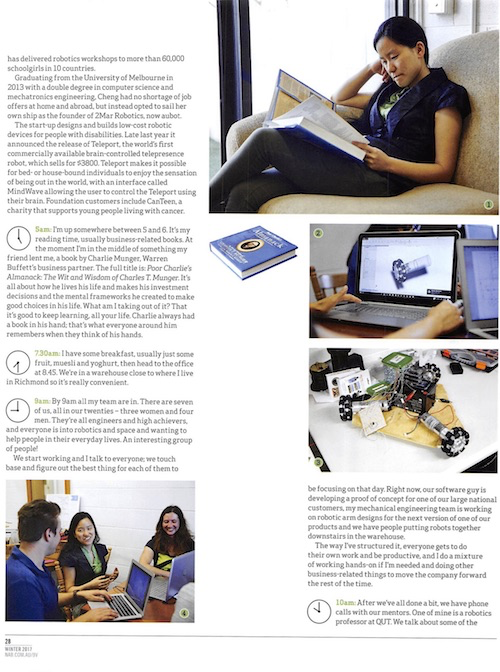 9am: By 9am all my team are in. There are seven of us, all in our twenties – three women and four men. They're all engineers and high achievers, and everyone is into robotics and space and wanting to help people in their everyday lives. An interesting group of people!
We start working and I talk to everyone; we touch base and figure out the best thing for each of them to be focusing on that day. Right now, our software guy is developing a proof of concept for one of our large national customers, my mechanical engineering team is working on robotic arm designs for the next version of one of our products and we have people putting robots together downstairs in the warehouse.
The way I've structured it, everyone gets to do their own work and be productive and I get to do a mixture of working hands-on if I'm needed and doing other business-related things to move the company forward the rest of the time.
10am: After we've all done a bit, we'll have phone calls with our mentors. One of mine is a robotics professor at QUT. We might talk for an hour about some of the challenges we're having, work through them and get some ideas. Or some of the team could email some mentors in the States, at Google Robotics for example, and get some technical feedback about the designs and calculations they're working on. Or they'll ask for information about components or suppliers.
11am: We often have a visitor before lunch. The chief scientist for Victoria might come by and some of the team will stop what they're doing and give a presentation on the things we're working on. We'll discuss our business model and talk about potential customers they may be able to introduce us to. Sometimes prospective customers come by the workshop as well, to check out what we do and see a demonstration of the Teleport in action.
I'll also call a couple of our customers around this time to see how they're going with their robots. We've only been shipping since November so it's really important to us to get feedback and make sure our products are working and that we're on the right track.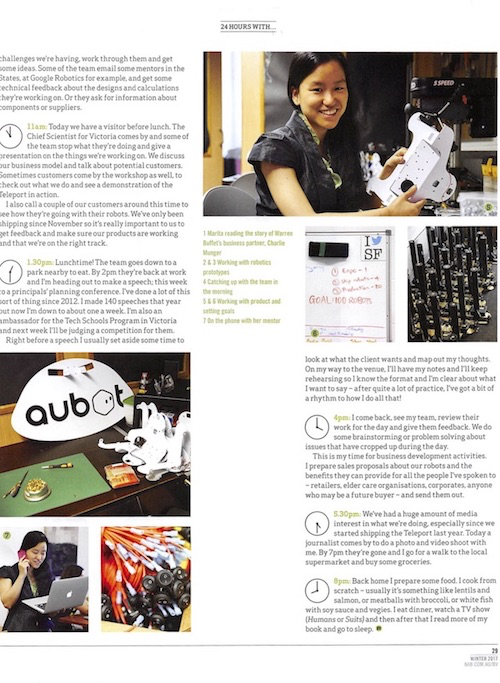 1.30pm: Lunchtime! The team usually goes down to a park nearby to eat. By 2pm they're back at work and I'm heading out to make a speech; this week to a principals' planning conference. I've done a lot of this sort of thing since 2012. I made 140 speeches that year but now I'm down to about one a week. I'm also an ambassador for the Tech Schools Program in Victoria and next week I'll be judging a competition for them.
Right before a speech I usually set aside some time to look at what the client wants and map out my thoughts. On my way to the venue, I'll have my notes and I'll keep rehearsing so I know the format and I'm clear about what I want to say – after quite a lot of practice, I've got a bit of a rhythm to how I do all that!
4pm: I come back, see my team, review their work for the day and give them feedback. We might do some brainstorming or problem solving about issues that have cropped up during the day.
This has also become my time for business development activities. I prepare sales proposals about our robots and the benefits they can provide for all the people I've spoken to – retailers, elder care organisations, corporates, anyone who may be a future buyer – and send them out.
5.30pm: We've had a huge amount of media interest in what we're doing, especially since we started shipping the Teleport last year. I often have a journalist come by around this time to do a photo shoot or a video shoot with me. By 7pm they're gone and I'll go for a walk to the local supermarket and buy some groceries.
8pm: Back home I'll prepare some food. I cook from scratch – usually it's something like lentils and salmon, or meatballs with broccoli, or white fish with soy sauce and vegies. I'll eat the food, watch a TV show like Humans or Suits and then after that I'll read more of my book and go to sleep.
-----------------------------------------------------------------------------
Here's an example of a photo shoot or interview I would do.  This one was for the QANTAS magazine.